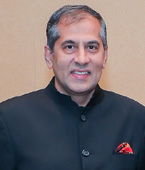 Mr. Pavan Kapoor
Ambassador of India to UAE
In a diplomatic career spanning over three decades, Ambassador Kapoor has served in different capacities in the Indian Missions in Moscow, Kyiv, London and Geneva apart from serving in the Ministry of External Affairs and the Prime Minister's Office in New Delhi. He also served as an international civil servant with the Commonwealth Secretariat in London.
He was India's High Commissioner to Mozambique and the Kingdom of Swaziland from January 2014 to early 2016, and Ambassador to Israel from March 2016 to September 2019.
Ambassador Kapoor has an MBA from the Indian Institute of Management in Ahmedabad, India and a Masters in International Political Economy from the London School of Economics.