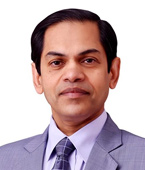 H. E. Sunjay Sudhir
Ambassador of India to UAE
Mr. Sunjay Sudhir joined the Indian Foreign Service in 1993. Besides being India's Ambassador to the UAE, Mr. Sudhir is also India's Permanent Representative to IRENA.
In a diplomatic career spanning about three decades, Mr. Sudhir has done seven overseas postings. He served as High Commissioner of India to the Maldives from 2019 to 2021. Prior to this, he headed the International Cooperation Division at the Ministry of Petroleum & Natural Gas headingin New Delhi (2015-19). He was Consul General of India in Sydney (2014-15); Counsellor at the Permanent Mission of India to the World Trade Organisation, Geneva (2007-11) where he dealt with IPRs, RTAs and Trade and Development. He also served in various capacities at the Indian High Commission, Colombo (2004-07), Indian Embassy, Damascus (1997-2000) and Indian Embassy, Cairo (1995-97).His postings at Head Quarters include Chief of Staff to External Affairs Minister (2012-14).
Mr. Sudhir holds degree of Bachelor of Technology from the Indian Institute of Technology – New Delhi and has pursued Diplomatic Studiesat Oxford University (UK). In International Trade, Mr. Sudhir has studied TRIPS Agreement and Public Health, WTO Law and Jurisprudence, and WTO Dispute Settlement.In the field of Energy, he has been Director on the Boards of ONGC Videsh Ltd, Oil India Ltd and Indian Strategic Petroleum Reserves Ltd. He is currently an Associate Editor on the Editorial Board of OPEC Energy Review.
Mr. Sudhir is married and is blessed with two daughters.